Bilingual | S.T.E.A.M. | Eco Friendly
Our modern preschool program enhances traditional learning methodology and incorporates ecological, engineering and artistic methods that will help your child experience a fun, natural way of learning, empowering them to solve life's challenges.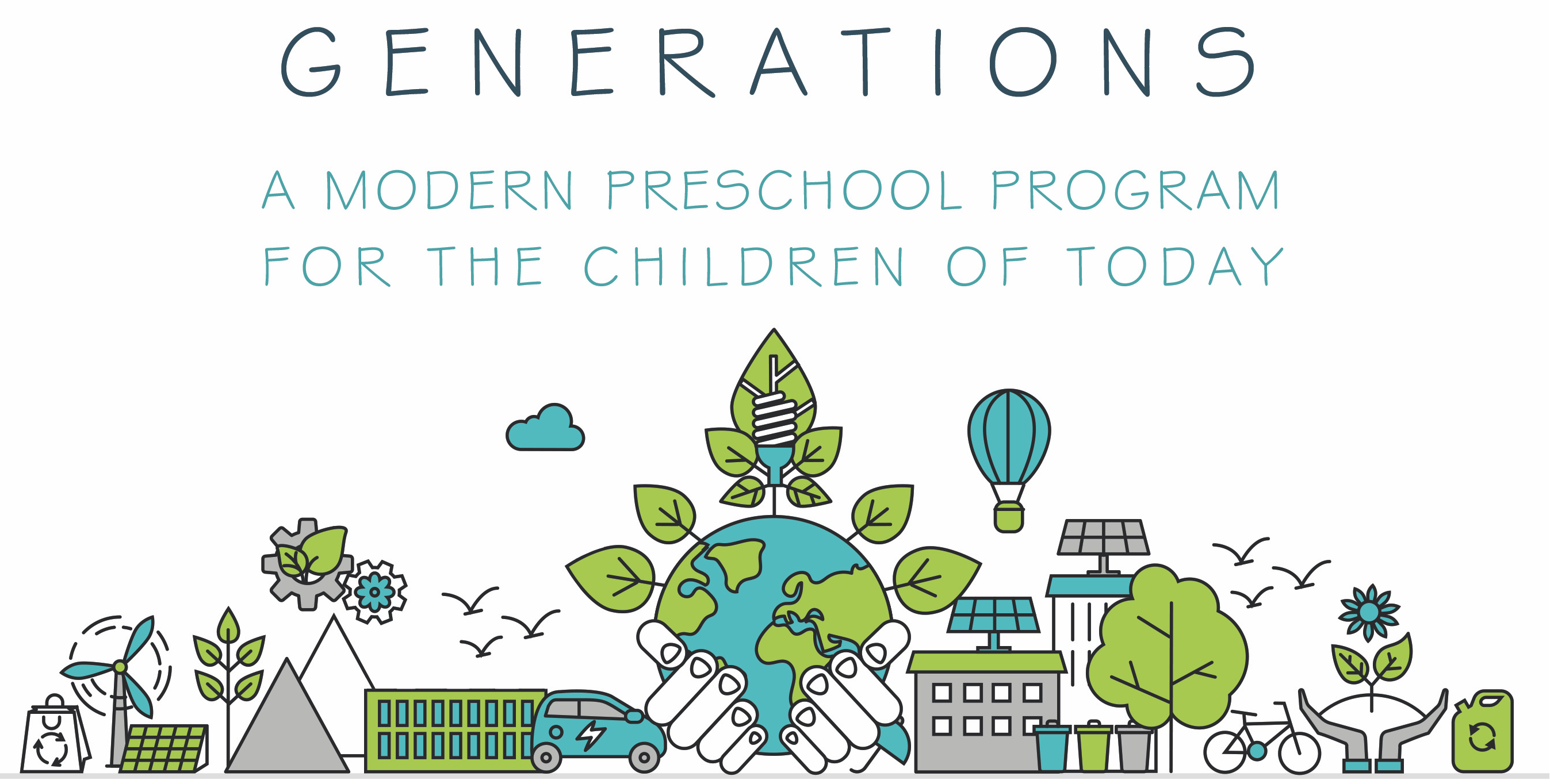 LEARNING THROUGH EXPLORATION:
Stimulating the five senses, magnifying each child's interest and talents.

BI-LINGUAL:
Incorporating Spanish throughout the program.
ECO FRIENDLY:
Teaching generations to respect our planet.

S.T.E.A.M.
Incorporating science, technology, engineering, art & math.

GOING GLOBAL:
Children from diverse cultures working together for a unified future.
Upcoming Events
Generations program will start their 2019-2020 school year on September 2, 2019
All the information about our program will be posted by May 2019
Please Note
Our new Generations program is a new preschool option in addition to our previous preschool program. Our traditional Preschool (Oranges and Honeydews) will be relocated in our lower level.
Contact Us
Special arrangements will be made for students currently enrolled in the Honeydews Classroom. For more information please contact Ms. Alicia, Eli, or contact us through our website
September: Food (Fruits/Vegetables)
October: Seasons
November: Animals
December: Arctic
January: Hibernation
February: Oceans
March: Gardening
April: City
May: Cultural Diversity
June: Desert
8:30 – 9:00 Center Time
9:00 – 9:15 Preparation For Breakfast
9:15 – 9:30 Breakfast
9:30 – 9:45 Clean Up
9:45 – 10:00 Chalkboard / Rug / Reading Time
10:00 – 10:30 Circle Time
10:30 – 11:00 Activity (S.T.E.A.M) Inside Or Outside Activities Depending On The Weather
11:00 – 11:15 Read Out Loud – Quiet Reading
11:15 – 11:45 Science Lab (Technology, Library, Video, Tablets)
11:45 – 12:00 Clean-up / Preparation For Lunch
12:00 – 12:30 Lunch
12:30 – 12:45 Preparation For Nap / Resting Time
12:45 – 2:15 Nap / Resting Time – Mondays Until 2pm Because Of Yoga
2:15 – 2:30 Preparation For Snack / Bathroom / Clean Up
2:30 – 2:45 Snack
2:45 – 3:15 Free Playing On Centers
3:15 – 3:30 Circle Time / Closer